Uniview Temperature Screening Products Protect Jeju International Airport in South Korea
Jeju International Airport was opened in 1968 and is now the 2nd largest airport in South Korea. Located in the city of Jeju, an important geopolitical position that connects Southeast Asia and Northeast Asia, the airport serves many international destinations in mainland China, Hong Kong, Japan, Thailand and Malaysia. With 87 routes and direct navigation with 43 cities around the world, in 2019, Jeju International Airport completed a total passenger throughput of 31.31 million.

As a transportation hub between Korea and abroad, and the gateway to Jeju Island, Jeju International Airport has an average daily throughput of 85,000 people. Given that the current pandemic is mainly imported from abroad, Jeju International Airport has become a goalie for the health of Korean people. How to conduct a good health checkup on passengers under such a large volume of passenger traffic becomes an inevitable topic.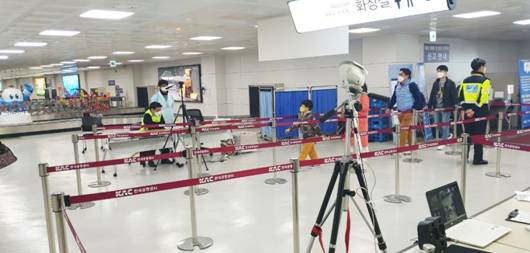 To solve the above problems, the Airport Immigration Department has chosen multiple UNV USS-TIC500 Temperature screening products to be deployed in the airport. With the user-friendly layout design, airport staff can easily complete deployment and installation. At the same time, the low temperature detection error of ± 0.4 ℃ enables an efficient and precise temperature screening, with two separate channels to orderly guide the inbound passengers. These functions help to realize a real-time and fast temperature screening solution, thus improving the work efficiency of inbound personnel.
UNV Thermometer USS-TIC500 is a fully automatic thermal imaging temperature screening system with simple operation and convenient management. It can be widely used in traffic-intensive places such as transportation hubs, hospitals, enterprises, schools and communities to realize large-scale monitoring and rapid screening of human body temperature. Apart from the extraordinary temperature screening accuracy of ± 0.4 ℃, USS-TIC500 supports automatic fever alarms and result records. With these fantastic functions, USS-TIC500 can greatly improve the prevention and control of pandemic, reduce the risk of cross-infection in public areas.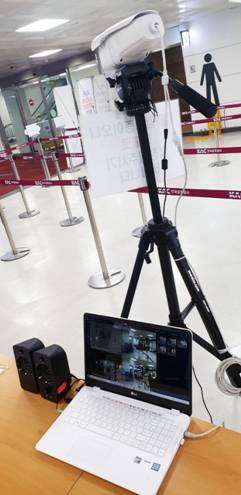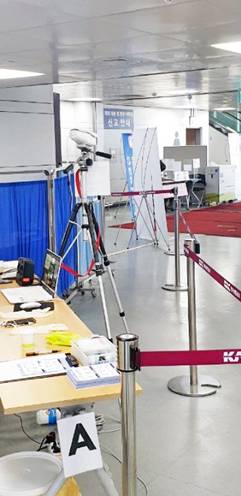 As the official of the immigration department said, "We used to measure the temperature of passengers by handy device. Its low efficiency results in long queues and caused complaints. UNV products changed our way of temperature measurement from passive to active. They have great value here at airport."
As a TOP4 global provider of video surveillance solutions, UNV accumulated a lot of project experience in Korea, protected Ocean Police Station, Jeju Provincial Department and many universities. Dedicated to product quality and aimed to build a better future, UNV gained a huge reputation and brand recognition from end-users and the distributors in Korea. UNV continues to empower the future.