Background:
BANKY FOIBEN'I MADAGASIKARA (BFM) is Madagascar's top bank, founded in 1973 and based in the capital, Antananarivo. Since 2019, the original CCTV system in FBM cannot meet the demand for management department anymore, because there is an old equipment, fuzzy resolution, and unstable system operation. It caused frequent theft incidents, thus, the CCTV upgrade is urgent and necessary.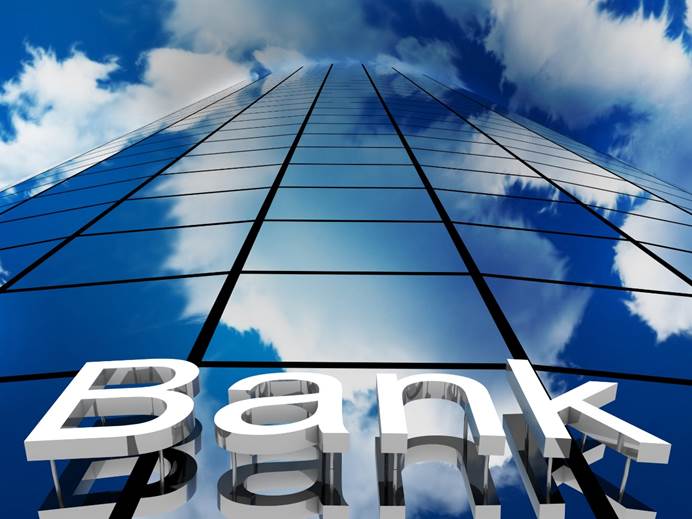 This project has attracted great attention from mainstream suppliers, with its large scale and large demand. After a long period of POC verification, UNV products outcompete many international brands and successfully convinced end customers by its excellent product quality, accurate performance. In the second half of 2020, the second phase of the project has been implemented, it includes more than 910 sets of purchased equipment such as Unicorn.
Unicorn:
Unicorn is a powerful center management server supporting 1,000 devices & 2,000 channels camera. It can manage IP cameras, NVR, encoder, decoder and etc. Based on the safe and stable Linux system, it can provide strong system compatibility to deliver high-requirement IP surveillance solutions. With the multi-user and organization management, Unicorn can help to manage hundreds of cameras with clear structure and high efficiency. Moreover, with built-in decoding card and the help of decoders, Unicorn can build a big video wall and make it quite convenient to monitor many camera's live view at the same time and popup windows when alarms are triggered.
NVR516-64:
UNV NVR516 recorders support N+1 hot stand-by, with redundant hardware design and all kinds of RAID types, significantly contribute to the system's reliability to keep all data and video's safety. With 4 RJ45 10M/100M/1000M-adaptive ports and 2 SFP ports, it can provide multi-address, load-balance & fault tolerant working modes, greatly improve the stability of the network connection. Besides, because the disk enclosure can expand the storage, each NVR516 can support more than 480TB storage to meet long-term recording requirement.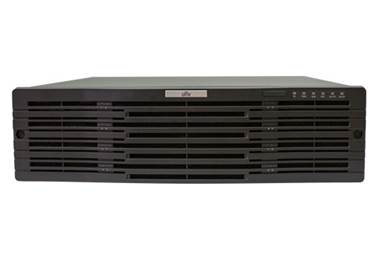 IPC6854SR-38X-VC:
IPC6854SR-38X-VC belongs to UNV Alphaview series, the powerful chipset and built-in AI algorithm can provide multiple deep-learning functions including face detection, people counting and perimeter protection which is able to identify human and vehicle to filter false alarms. Moreover, with 38X zoom and SIP triggered tracking, it can detect targets at hundreds of meters away and extract the features of the target for afterwards searching and identifying. In addition, with a big sensor of 1/1.8", 60fps, 250 meters IR range and 0.0005lux super starlight feature, it can provide top-class image quality day & night. Besides, with optical defog and gyroscope stabilization, it can guarantee the best outdoor performance under harsh environment.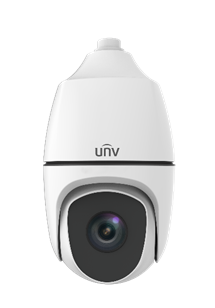 IPC868ER-VF18-B:
IPC868ER-VF18-B fisheye camera can provide a 360° panoramic field of view, covering a large area with 1.8mm lens, but still has a clear image with 12MP (3000*4000) resolution. With built-in de-warping algorithm, UNV fisheye camera can directly send multiple streams monitoring 4 directions' area. It also supports built-in Mic & Speaker, getting not only clear image, but also clear voice. In the meantime, it can be used for two-way audio & broadcast.
IPC2325EBR5-DUPZ:
IPC2325EBR5-DUPZ bullet camera is of UNV PRIME III series with solid quality and amazing functions. With 120dB WDR, it is able to give clear image of both inside and outside, a perfect choice for entrance; With 50 meters IR light and starlight feature of Min. 0.002Lux, the camera provides high quality image at night. What's more, it has people counting and face capture function, which is the right choice for calculating people flow and monitoring forbidden area.
IPC3234SS-DZK:
The Camera supports multiple smart functions including Object Left & Object removed, it is an excellent match for indoor monitoring to prevent illegal behavior. With ANR function, even if the network is disconnected, the camera can save the video into the SD card. After the network reconnect, the video will be automatically sent to the NVR. In addition, IK10 and IP67 make it adaptable to harsh environments and man-made damage.