Uniview presented advanced products and solutions at security exhibition of All-Over-IP in Moscow
On November 21, the 11th All-over-IP 2018 international exhibition has been launched in Moscow. All-Over-IP, one of the largest and most important events for the security industry in Russia, put leading video surveillance developers, manufacturers, experts and installers together to disseminate advanced technologies and create new business opportunities.
It is the first time that Uniview attend this exhibition as an exhibitor. Several reliable and efficient products and solutions are displayed to all Russian-speaking clients.
Uniview is the leading supplier of video surveillance products and solutions. With more than 10 years experiences in IP video surveillance, Uniview now is the 6th largest manufacturer worldwide and No.3 in China (IHS Markit). Uniview delivered products and solutions to more than 145 countries and regions.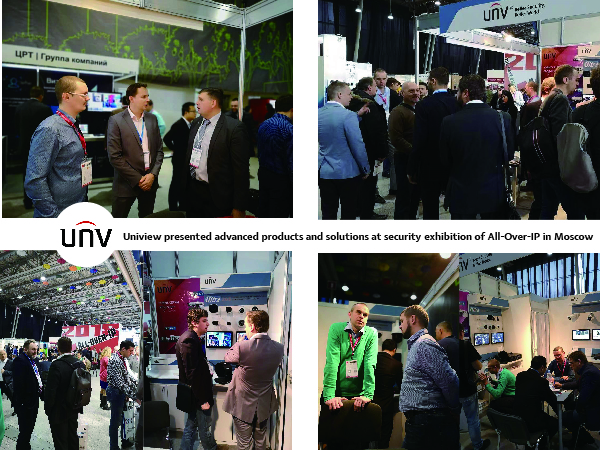 Three Product Series- Easy, Prime, Pro
Uniview presented three product series – Easy, Prime and Pro Series at the exhibition to meet the different demands from the clients. Products from Easy series are the most popular choices for entry-level applications such as retail. Easy series is cost-effective and easy-to-operate.It includes L series IP cameras, B series NVRs, Ultra 265 PoE kits and Navigator PTZ dome cameras. Besides, all easy series products are featured with Uniview patented compression technology Ultra265. Furthermore, NVRs in Easy Series also supports Plug & Play which are easy to install because it only needs few configurations and comply with ONVIF so that almost all types of cameras can be added to the device easily.
Prime series includes some standard and enhanced cameras and NVRs which have a wide range of smart functions, resolutions and high-quality video content intelligent analysis. It is suitable for system integrators and installers. Cameras in this series also support multiple interfaces to simplify configuration: audio, alarm I/O, and built-in microphone. Moreover, compared to common NVRs, NVRs in Prime series show better performance. They can support up to 12MP recording resolution of cameras and 4K output, ready for professional solutions.
Pro series products are designed to deliver superior user experience for clients with excellent ultra-smart technologies including ultra-high resolution, professional intelligent functions. This series' products are designed to apply to large-scale platforms and projects such as airport, highway and city. The cameras in Pro family provide 4K HD resolution and 12MP image quality to ensure extremely clear image. In addition, professional intelligent functions such as LPR (license plate recognition), LPD (license plate detection), and auto tracking functions are developed for a range of tougher scenarios. Furthermore, Pro series' NVRs also have outstanding ability to record and decode with professional hardware, integrated with managing, storing and transferring functions and have a hardware-based redundant power supply and BIOS to guarantee operation works safely.
Uniview strategy for 2019 in Russian-speaking market
Uniview, as a leading video surveillance manufacturer, devotes to provide better quality products and services for customers. In the next year, we are planning to develop the industry chain through industrial-grade products and work with more contractors and installers to expand our Russian-speaking market. With the establishment of the Uniview Russia, we are committed to provide more localized services to customers and become the most reliable video surveillance provider in Russian-speaking market with our cutting-edge technologies and more professional services. Meanwhile, Uniview will be able to better understand the requirements from customers and Uniview Russia is ready to grow with our customers.
Official website:http://en.uniview.com
Email: russia@uniview.com
Phone: +7 (495) 249-01-28
Uniview Russia office address: 123485, Russia, Moscow, Marshala Proshlyakova St., 30, 4rd floor, office 409 (BC Zenit Plaza)