There are many security risks in the management of public security. Since the large area and uncontrollable human flow, this makes it difficult for managers to control regional security. Al Mouj Marina encounters such a thorny problem.
Amman Al Mouj Muscat Marina is a combination of tourism, sports competition, and breakwater, with an overall length of 2 km and 132 berths. Al Mouj Marina features one of the largest breakwaters in the world and is home to a luxurious yachting community.

Considering the large area of Marina management, Uniview provided a whole video surveillance system with 500m Laser PTZ Dome cameras, cooperate with the 2MP star laser PTZ camera (IPC6252SL-X33UP PTZ), which covered the entrances, corners, and inside of Al Mouj Marina, so the dynamic of the Marina could be monitored comprehensively. Even in the low light surrounding and water glare, the Uniview solution provides an excellent picture.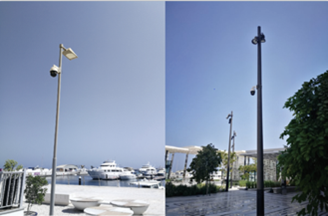 Solution:
•Smart Functions: Our smart IPC can provide 7 smart functions, 4 additional enhanced smart functions will be provided, which can fully satisfied with various demands, especially in some projects. For example, in some places like
supermarkets or tourist attraction, we always need to do the business analysis based on human traffic, so we need people counting smart function help us to do that. And the NVR516 can export the daily/monthly/yearly report which is helpful in making good business decisions.
Highlights:
• Super NVR516: The NVR516 is designed for project which need achieve max to 128 channels. And 12 extra HDMI channels are available for the decoding card. In order to protect the data security, this NVR also can support most types of RAID and Hot-swap. So it is very reliable partner for the project solutions.
• User Friendly: With Uniview CCTV system, operators will easily monitor all the areas using PTZ dome cameras and can quickly handle potentially dangerous situations.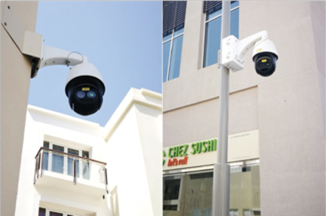 A good IP video surveillance company is not only able to provide products, but also provide customized professional solutions according to customer needs. Uniview is the pioneer and leader of IP video surveillance and has the 6th largest global market share. We endeavor to build a safer world by providing professional, reliable and cutting-edge products and services.