--GIT SICHERHEIT, Germany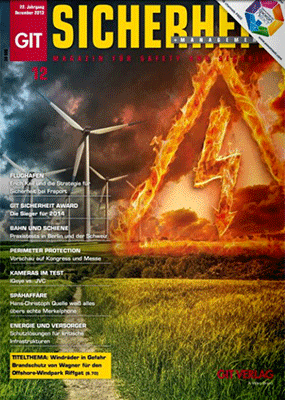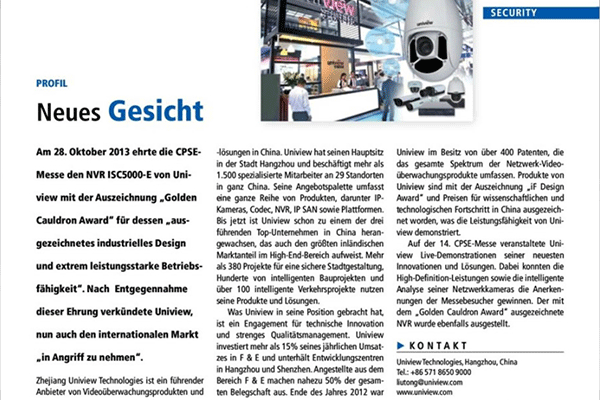 On 28th October, 2013, CPSE honored Uniview's NVR ISC5000-E with the Golden Cauldron Award for its excellent industrial design and extremely strong operation ability. With the new honor, Uniview declared to march into international market.
Zhejiang Uniview Technologies Co., Ltd. is a leading supplier of video surveillance products and solutions in China. Based in Hangzhou, Uniview has more than 1,500 dedicated employees in 29 locations around China and has developed a whole series of products including IP cameras, codec, NVR, IP SAN and platforms. So far, Uniview has grown to be a Top 3 leading company in China which has the largest high-end domestic market share. More than 380 Safe City Projects, hundreds of intelligent building projects, over 100 intelligent traffic projects used its products and solutions.
What propelled Uniview to its position is the commitment to technical innovation and rigorous quality management. Uniview invests more than 15% of annual sales in R & D, with development centers in Hangzhou and Shenzhen. R & D employees accounts for close to 50% of total personnel. At the end of 2012, Uniview has over 400 patents which covered the whole range of network video surveillance products. Uniview's products have been issued iF Design Award, National Science and Technology Progress which demonstrate the strength of Uniview.
On the 14th CPSE, Uniview held live demonstrations of its latest innovations and solutions. The high definition performances and intelligent analysis of network cameras have gained visitors' recognitions. The new NVR which gained the Golden Cauldron Award was also on display.
On the solid basis of technologies and profound experience, Uniview officially announced that it will start international business. A special area is set to demonstrate Uniview's new business. And the international business team was present to discuss technology and products for foreign visitors. In only three days, more than 200 professional visitors from more than 40 countries learned about Uniview's cutting-edge technologies. Although Uniview is not a pioneer in international market, it will thrive owing to the leading innovations, high quality and customer-oriented spirit.